Why Volunteer?
Equine-Assisted Therapies of South Florida (EATSF) serves more than 120 children and adults with special needs each year. We rely on nearly 200 volunteers to help with classes, assist in our office and at events, and care for our horses. Our dedicated volunteers are integral to our programs and help us provide premier equine-assisted services.
Experience with horses is not required. EATSF will provide you with all the training you need to be successful in your pursuits.
Volunteer Opportunities
Program Support: Provide support for equine-assisted programs. Working in lessons with a Certified Instructor and volunteer Team Captains you will begin as a Sidewalker and with additional training you may advance as a Horse Leader.
Stable & Horse Care: Volunteers will assist barn staff by providing help with grooming and feeding horses, cleaning stalls, and other duties necessary to give our four-legged friends the best care possible.
Facility Maintenance: Help keep our campus looking fresh and clean. Duties may include picking paddocks of manure and hay, gardening, and cleaning,
Administrative Support: If working outside in the barn or arena is not for you, you can assist in the office. Help is always needed with reception, data entry, program administration and a variety of tasks that help us be more efficient.
Special Events: EATSF hosts fundraising, awareness, and program events throughout the year. This includes horse shows, awareness events, and the Horseshoe Hoedown. Help is needed with a variety of tasks that are necessary to the success of each event.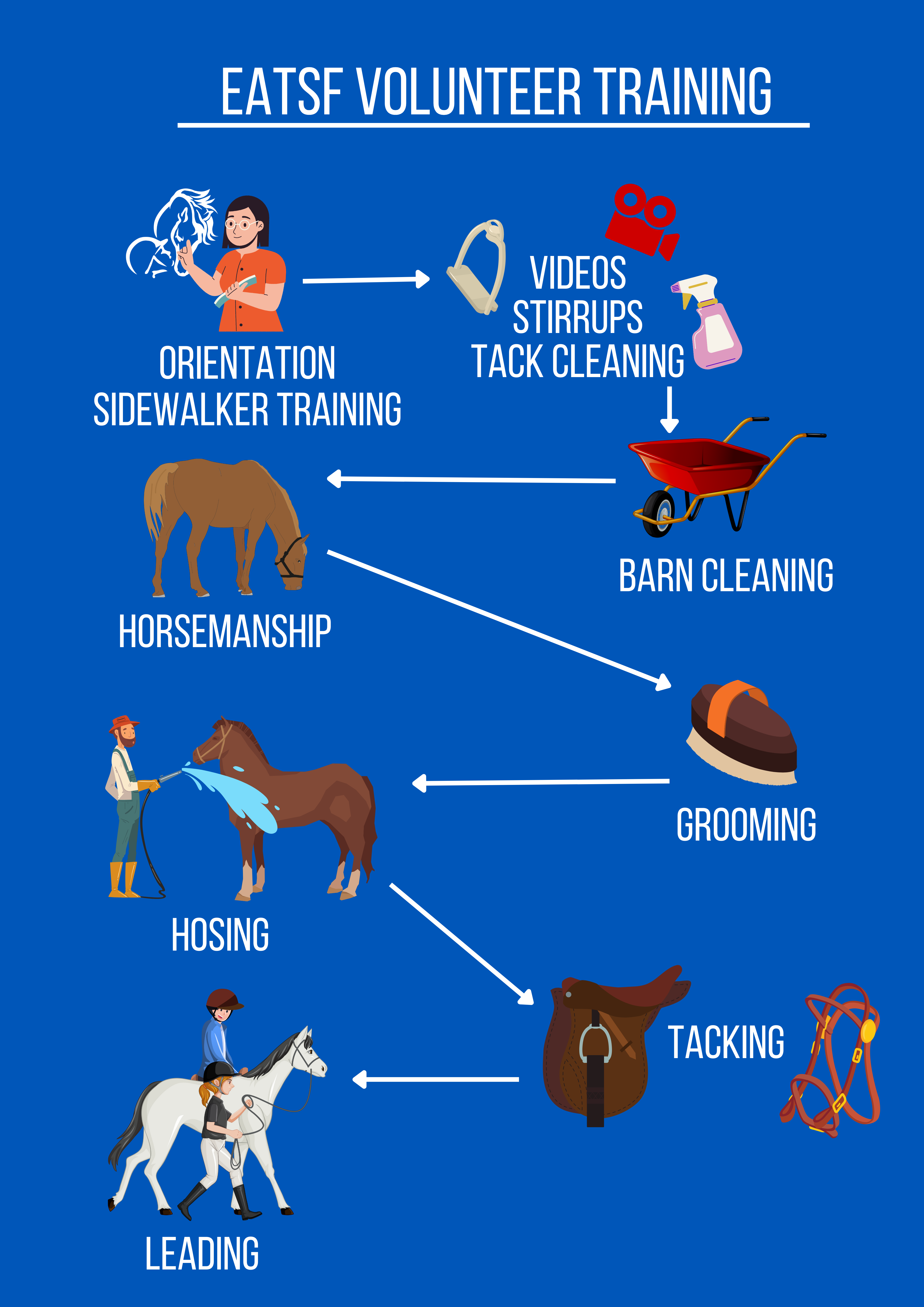 Getting Started
Interested individuals must complete an in-person volunteer orientation and introductory training before participating in a regular shift as an active volunteer. At the New Volunteer Orientation, you will learn about EATSF and our programs, go on a barn tourn and experience your first training on how to be a sidewalker for our participants during lessons.
We ask all volunteers to commit to at least 2 hours per week for a full session. This helps maintain consistency for our students. While we understand that life happens, the participant that you are matched with will ask about you. Your absence can impact the quality of the lesson that is being provided.
To begin:
Visit our online calendar to see when EATSF is hosting the next "New Volunteer Orientation."
RSVP for the orientation by clicking here, or by calling (954) 974-2007.
Click here to download, complete and sign the "Volunteer Application" and bring with you to orientation.
Volunteer Requirements
Must be a minimum of 14 years of age and have parental approval.
All volunteers must pass a background check, which includes the Florida Sexual Offenders Registry.
Commit to a minimum two (2) hours per week during each 10-week session.
Must be able to stand and walk for the duration of the lesson and jog short distances unless working in the office.
Assist instructors by being attentive and responsive to direction during lessons.
Must show respect for barn property, staff, horses & participants.
Must follow all safety rules at EATSF.
Provide at least 24-hour notification of an absence.