Participating in equine assisted programs positively impacts individuals of all ages and ability levels. All mounted and unmounted programs at EATSF work toward the achievement of specified physical and developmental goals, depending on the program.
EATSF provides three (3) 10-week sessions and runs a program calendar that is similar to the Palm Beach and Broward County school systems.
Participants are assessed by trained team members to ensure that they receive the best possible service to meet their needs and goals. After successful enrollment, participants are placed in classes based on their age and ability level. All EATSF programs take place in a clean and safe environment.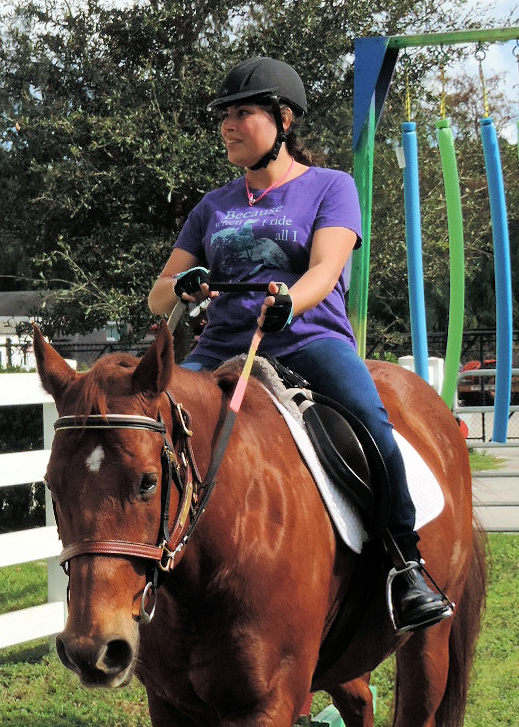 Equine-Assisted Services
EATSF offers four different programs:
Therapeutic Riding (TR): EATSF's largest program. Horseback riding gently and rhythmically moves the rider's body in a motion like the human gait. EATSF serves individuals from four years old and up who have cognitive, physical, and emotional disabilities.
Hippotherapy (HIPPO): A treatment strategy that utilizes equine movement facilitated by a physical, occupational, or speech therapist. The therapist will change variables, including the horse's speed, direction, position of the participant, and the therapeutic activities performed, to achieve the best outcome for the participant. Hippotherapy is typically for participants with physical challenges. Often, those participants can transition into the therapeutic riding program after their strength and balance have improved.
Unmounted Horsemanship (UH): An unmounted, learning-based program focused on teaching individuals of all ages and abilities about horsemanship and horse care. Hands-on activities provide an unparalleled opportunity for the participant to build self-confidence when working with an equine partner, while improving their communication and social skills.
Equine-Assisted Psychotherapy (EAP): An unmounted therapy program, open to individuals or group, starting at age 7. A licensed mental health professional works with the participant and horse to explore feelings and behaviors. Children and adults suffering from mental or physical abuse, post-traumatic stress disorder (PTSD), bullying, depression, anxiety, substance abuse, or eating disorders benefit from this program.
Life Benefits of Program Involvement
Individuals with cognitive, emotional, and physical special needs can experience numerous benefits of being involved in a mounted or unmounted program at EATSF. These benefits can include but are not limited to:
Improved balance and coordination
Development of fine and gross motor skills
Development of self-worth, self-esteem, and confidence
Improved speech and pronunciation
Increase in core strength and muscle control
Improved processing ability
Increase in range of motion and mobility
Increase in cooperation, empathy, and compassion
Opportunity to experience socialization through teamwork, and peer development
Decrease in feelings of anxiety, depression