2018 Summer Riding Camp
WELCOMING CHILDREN OF ALL ABILITIES
WHERE RIDERS WITH SPECIAL NEEDS CAN PARTICIPATE WITH THEIR SIBLINGS AND FRIENDS, SHARING THE MAGIC OF THE HORSE.
Registration Begins APRIL 1
Must be Age 7 or Older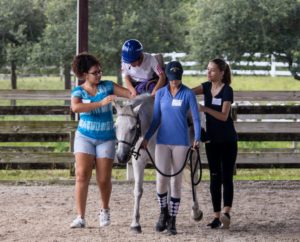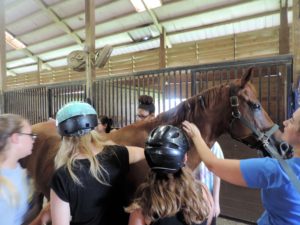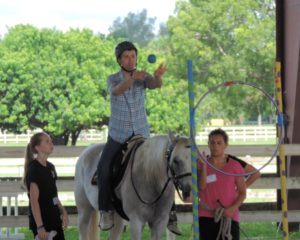 What Can You Expect?
Our Summer Camp program encourages personal growth for each camper by providing horse-related experiences in a social environment. Daily activities include riding lessons, grooming and tacking, and hands-on horsemanship. Each participant will be paired with a volunteer "buddy" to make sure they are supported through every part of their camp experience.
Camp sessions are open on a first come, first serve basis. Camp games and activites for each week of camp will be similar in content and design.
Morning Activities: Riding lesson, grooming, tacking, horsemanship and age appropriate horse-related crafts and games.
Lunch: Lunch is NOT provided by EATSF
Afternoon Activities: Water games, sensory activities, arts & crafts, and horsemanship-related learning
All activities take place at Equine-Assisted Therapies located in Tradewinds Park North.
DOWNLOAD REGISTRATION FORMS HERE
Summer Camp Dates
Week 1: Monday, July 9 – Friday, July 13
Week 2: Monday, July 16 – Friday, July 20
Week 3: Monday, July 23 – Friday, July 27
Summer Camp Cost
Half Day: 9am-noon, $250 per week
Full Day: 9am-3pm, $350 per week
Registration and Payment
Application and Payment Deadline: June 4, 2018
Final Payment Due: No later than July 2, 2018
Applications for all campers must include the Summer Camper Registration Form AND Physician's Statement signed by the camper's physician.

Refunds and Cancellations
No refunds or credits will be made on or after July 2, 2018. All cancellations must be made in writing to Equine-Assisted Therapies of South Florida.

How to Pay: EATSF accepts cash, check or debit/credit cards. Checks should be made payable to EATSF. Please deliver or call in the payment to our administrative office. Mail payments to PO Box 273542, Boca Raton, FL 33427.