Summer Riding Camp
WELCOMING CHILDREN OF ALL ABILITIES
WHERE RIDERS WITH SPECIAL NEEDS CAN PARTICIPATE WITH THEIR SIBLINGS AND FRIENDS, SHARING THE MAGIC OF THE HORSE.
Must be Age 7 or Older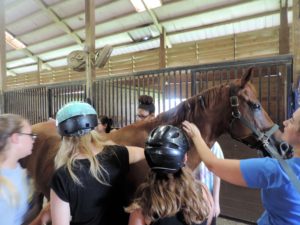 What You Can Expect
Our Summer Camp program encourages personal growth for each camper by providing horse-related experiences in a social environment. Daily activities include riding lessons, grooming and tacking, and hands-on horsemanship. Each participant will be paired with a volunteer "buddy" to make sure they are supported through every part of their camp experience.
Camp sessions are open on a first come, first serve basis. Camp games and activities for each week of camp will be similar in content and design.
Morning Activities: Riding lesson, grooming, tacking, horsemanship and age appropriate horse-related crafts and games.
Lunch: Lunch is NOT provided by EATSF
Afternoon Activities: Water games, sensory activities, arts & crafts, and horsemanship-related learning
All activities take place at Equine-Assisted Therapies located in Tradewinds Park North.